Engineering
Excellence
Pushing the frontiers of the possible
The technology that today allows us to produce visually artistic and intricately delicate embossed products comes from our dedication to finding solutions that best answer the needs and expectations of our customers.
Recognized
OEM supplier and
leader of high
precision embossing
Boegli-Gravures prides itself on having developed and set the standards for a number of engineering solutions that contribute to a recognized superior embossing quality and result. Our customers benefit from an important marketing tool that enables them to differentiate themselves from others in their market and to position their brand in the premium segment.
Embossing Heads
Countless options to choose from. Increased
flexibility and profitability
Our experience over the years together with our investment in R&D has produced some notable value-added solutions to the functioning of our wide selection of embossing heads. We have developed the Quick-Exchange Embossing Head in answer to the need to maintain production speed and yet allow flexibility when a change in brand or design is required. The embossing head in the Quick-Exchange Cassette becomes an integral part of the packing line and is fix-mounted on the packing machine. Rollers can be changed in just a few minutes without removing the entire head.
Improved Fold
and Dead Fold
characteristics
All our embossing heads now come with our patented self-aligning system.
By maintaining the rollers fully parallel at all times, we assure an optimal embossing quality with different types of inner-liners. This system is also available with a multi-roller configuration. When the pitch structure remains the same, only the driving roller is changed to modify a brand logo. This is another of our time-efficient and cost-effective solutions.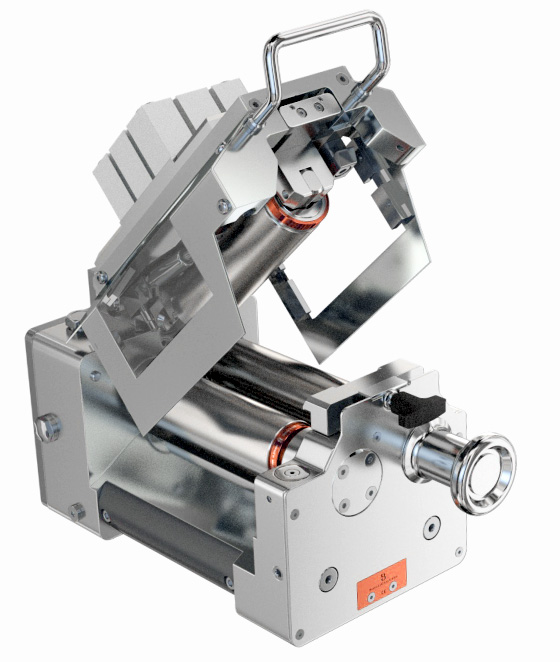 Customized
creasing
solutions
Our creasing rollers – Pin up/Pin down – break the natural memory effect of the wrapping material allowing high speed folding without damage to often delicate contents. This applies in particular to food where hygiene and sealing are paramount. A packing machine can be run at its full potential with fewer rejects and overall improved production efficiency.